Intracytoplasmic sperm injection (ICSI) is an assisted reproductive technology (ART) used to treat sperm-related infertility problems. ICSI is used to enhance the fertilization phase of in vitro fertilization (IVF) by injecting a single sperm into a mature egg. The fertilized egg is then placed in a woman's uterus or fallopian tube.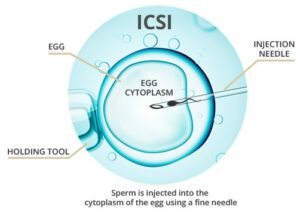 How does ICSI work?
There are two ways that an egg may be fertilized by IVF: traditional and ICSI. In traditional IVF, 50,000 or more swimming sperm are placed next to the egg in a laboratory dish. Fertilization occurs when one of the sperm enters into the cytoplasm of the egg. In the ICSI process, a tiny needle, called a micropipette, is used to inject a single sperm into the center of the egg. With either traditional IVF or ICSI, once fertilization occurs, the fertilized egg (now called an embryo) grows in a laboratory for 1 to 5 days before it is transferred to the woman's uterus (womb).
Why would I need ICSI?
ICSI helps to overcome fertility problems, such as:
The male partner produces too few sperm to do artificial insemination (intrauterine insemination [IUI]) or IVF.
The sperm may not move in a normal fashion.
The sperm may have trouble attaching to the egg.
A blockage in the male reproductive tract may keep sperm from getting out.
Eggs have not fertilized by traditional IVF, regardless of the condition of the sperm.
In vitro matured eggs are being used.
Previously frozen eggs are being used.